Meet Aptivate at ICTD Singapore - May 14-18th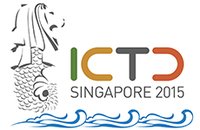 The bi-annual ICTD conference comes to Singapore this May, exploring issues relating to the use of information, communication technologies and development; bringing together academics and practitioners from around the world.
I will be attending and representing Aptivate's extensive range of work in the field of ICT for Development over the last 11 years. It would be great to meet anyone there from our current and previous clients in the international development and humanitarian relief sectors, or anyone else interested in using technology to improve the lives of people in poorer countries. I am particularly keen to talk to people working in or interested in the areas of:
I recently led a multidisciplinary team team of academics and practitioners to create a Guide to Evaluating Digital Citizen Engagement, along with field evaluations of the online participatory budget vote in Rio Grande do Sul (Brazil), U-Report (Uganda) and MajiVoice (Kenya). Aptivate are keen to explore ways to operationalise and extend this guide, or use the findings to support NGOs and other groups seeking to use technology in their citizen engagement work.
We are currently developing a free and open-source platform to support small and medium sized organisations with using technology to make their M&E work more effective.
Aptivate passionately believe that people have a right to be involved in decisions that affect them. This is particularly important when the work involves new and emerging technologies, invariably controlled by organisations and governments in richer countries. We are always exploring ways we can be more participatory in our work, and would love to explore collaboration opportunities with other organisations and individuals who share these values.
We are being asked to do more and more work involving open data and open development, and cool visualisations of this data. It's really interesting, appears to add a lot of value to the sector, and makes for cool websites! It would be great to share some of this experience, and maybe work with other people with interesting datasets to do more.
And of course if you simply have technology needs that you need advice or support with, we are experts in low bandwidth technology for the international development and humanitarian relief sectors, and in participatory design and agile development. If we can't build it for you or help you build it, we can definitely offer advice to help you move forward.
If you work in any of the above areas, or just want to chat about your ICT4D issues or interests, (or just a rant about the inequities of the global market), drop me an email to "matth /at/ aptivate.org" and let's have a chat over a coffee at the conference.
Or over a beer afterwards :-)