Chat with us at Bond 2014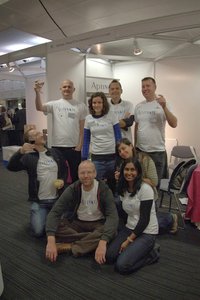 Aptivate are looking forward to exhibiting again at the Bond Annual Conference and Exhibition 2014, the largest event on International Development in Europe.
Last year we asked 3 questions to our NGO partners. We've been busy for the past year working in all three of these areas:
Is your website excluding visitors from the Global South? 
We are continuing our mission to raise awareness about how important low bandwidth websites are for development organisations. Many perform slowly and poorly in low bandwidth conditions and on mobile, excluding many of the people they are seeking to help. Come and talk to us to see how your website performs.
Is your M&E system a help or a hindrance? 
We've been talking to lots of NGOs, M&E specialists and techies about our approach to using ICT to improve M&E. Many organisations continue to find this activity difficult and are looking for ways to streamline it and make it work for them. This has become a huge growth area with recent conferences in the USA like M&E Tech.
We have been working on a solution, watch this space. Aptivate will be convening events on Tech & M&E in coming months - if you know people who might want to attend, please get them to sign up to our newsletter so they don't miss out.
Is your decision-making participatory?
Lots of NGOs are keen to explore participation but don't know how to bring it into their own internal decision-making processes. Last year we showcased our online tool eConsensus and talked about the way we make it work.
At the event this year we also have two new questions we would like to add in to the mix:
How open is your data?
Open Data is a buzzword this year, with supporters as diverse as the World Bank and grassroots activists (just take a look at the attendees we met at at last week's Open Development Camp in Amsterdam). It's a controversial area with ethical and privacy concerns, but an exciting one with huge opportunities to bring together your own data with other datasets and visualise it in new ways, empowering you, other developers and the people you work with to make new use of the data. Can it work for you? Talk to us and maybe we can help you find out!
How can interactive maps help you?
Mapping is the other thing we have seen really coming into its own in the past year. It's a fantastic way to visualise your impact in different regions and share this with a wide audience in a powerful manner (demonstrated in this interview with one of the team). Come and find out how mapping might help you in your work.
We hope to see all our partners and friends at Bond again this year, and make some new friends too.
It is at the Queen Elizabeth II Conference Centre in the heart of Westminster, on November 10th. Reserve your place now and we look forward to meeting you there!