TradeMapper hackday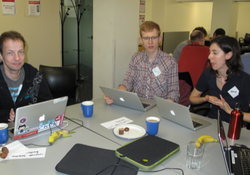 Neil from WWF wrote a great blog about the TradeMapper hack day. Read on for a few of the main highlights.
On Saturday 8 November 2014, the WWF, TRAFFIC and Aptivate team were joined by keen developers, designers and creators in London to help hack the TradeMapper better.
The day started with fun exercises to get to know everyone, and then moved on to score all of the ideas to improve the TradeMapper tool. 26 ideas to work on were thought of, and the team got through about 10 of those, including four changes to the code, widening the scope of what TradeMapper can do.
Development of the open-source TradeMapper will not stop here. We hope that our new friends from the day will keep working on the tool, and that WWF and TRAFFIC will be able to develop it even further in future.
For more information on the TradeMapper hack day, see Neils original blog here, where you can also see a list of future related events and ways to get involved.