Open Contracting Data Standard Launching
We're busy getting ready for the launch of the Open Contracting Data Standard at next week's Open Government Partnership meeting in Costa Rica. The Open Contracting Data Standard enables governments to publish accessible and structured releases of data and documents at each stage of a contracting process, in accordance with the Open Contracting Principles. We can do creative things with this open data, like visualising it on a map.
Sarah will be there in person. Over the past year she has been working with a team from the Open Contracting Partnership, including Tim Davies of The Web Foundation, on the technical aspects of the data standard. The team considered a number of supply and demand use cases and created a standard data model, and JSON Schema, to meet their needs.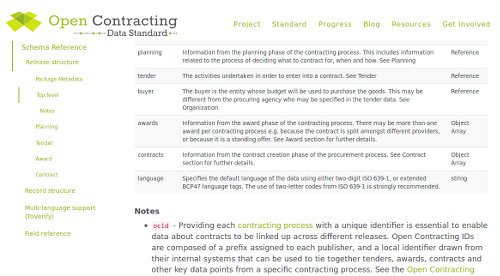 The standard itself is an evolving document that lives in its own GitHub repository to manage its evolution. We just built this shiny new website to showcase the standard with its documentation and examples. The site will go live when the standard is launched next week, and replace the
existing site
. Get a preview by viewing the bleeding-edge of work-in-progress on the standard's
master branch
.