The Future of Bandwidth Management?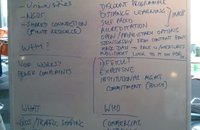 Who should do it?
Who should be doing Bandwidth Management? Who benefits/would benefit most from it?
Universities
Small organisations
Internet providers (ISPs)
Anyone with a shared connection (finite resource)
Why should they do it?
To download important documents and files
To make VoIP work
To reduce complaints from users (University VCs get a lot of complaints)
To avoid abuse of contended resources (ISPs live on contention ratios)
How can we do it?
Two main approaches:
Quality of Service (QoS) guarantees, traffic shaping
Quotas tend to be used:
by large organisations
where all users are approximately equal (e.g. ISPs, students in a university)
where it's hard to block certain types of traffic (politically or practically)
and it's OK to penalise some users for legitimate heavy usage
Tools:
Linux TC
BSD PF and ALTQ
Untangle (free download or hardware boxes)
NetEnforcer
PacketFence
Packeteer
Cheap Linux-based routers and APs
RADIUS 802.1x authentication
Why do we not do it?
Tools exist, but:
Extremely high level of technical skill required to do it well
(Over-)Simplified by expensive commercial tools with point-and-click interfaces
High cost in time (free) or money (commercial)
Lack of commitment/policy from institution/organisation management
Lack of value? Or lack of recognition of value?
Lack of funding/finance for promotion, training, tool development
What can we do about it?
Things that might encourage more people to adopt good bandwidth and network management:
Encouragement/support/training from NRENs to universities
A roving team of experts: NREN, UbuntuNet or Network Engineers Without Borders (NEWB)
Need to ensure that we build capacity instead of leaving an unsustainable solution
Persuade senior management of the opportunity costs/alternatives: "you can save money by optimising your existing connection instead of upgrading"
Online learning programme for cheaper mass distance education
Self-paced learning programme with accreditation
Stop trying to develop better GUIs for open source and give in to commercial alternatives?
Sponsorship for training from vendors, publishers, Facebook?
And one particular tool proposed: a speedtest/bandwidth map that lets (university) users measure their own network performance (page loading times), rate them, and compare with other institutions in the area. Reasons:
Empower non-technical users to understand their situation
Empower them with hard evidence to present to senior management
A public commendation/embarrassment/incentive to organisation management
Try to get to the top of the league table!
Provide data for the bandwidth map (web accessibility) project
How to make it happen:
Hack day to create the software
Tell people about it in AfNOG
Encourage publishers to link to it from their PDF download pages