Technology decisions in organisations great and small
Ken Banks often writes about Social Mobile's Long tail - it's a really helpful concept; one that I find myself frequently using when explaining our work to others.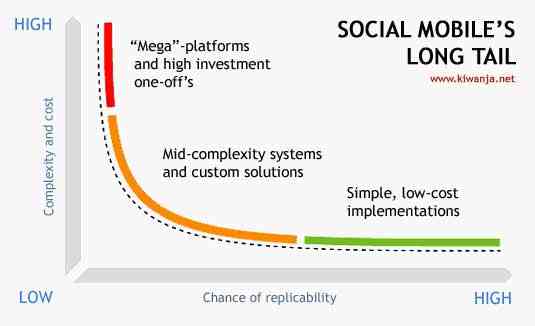 Whenever I see Ken's picture, I'm reminded of the similar relationship between complexity and organisational size and I'm proud of how Aptivate works successfully across this spectrum. We try to bring the breadth of our knowledge, skills and experience to bear when working with everyone from communities in rural Zambia, to NGOs in the UK, international agencies in Europe and governments across Africa.
I think this is really important.
It's great to be "the policy people" or "the community technology people" but you need people who span these worlds and can join the dots.
That's us.
We've spent months in rural Zambia working with young women getting low-power computers, GPRS connections and mobile systems working to support local entrepreneurship. Now we have greater confidence offering advice on mobile monitoring and evaluation strategies for NGOs in the region, and in turn, to guide an international agency wanting to know what kind of policy monitoring is possible, and how data might integrate into their wider systems.
I had an enjoyable conversation yesterday with the folks at CAFOD who want to know if mobiles could strengthen their work at the local partner and international levels. I met them through BarCampAfricaUK last November and finally had a chance to catch up.
Personally, I'm really interested in working with medium-sized organisations trying to make better use of technology. I probably have similar conversations 2-3 times a month.
I think there are some common characteristics and challenges for these organisations:
They already use some technology in the areas you'd expect: fundraising, communications, advocacy, admin and finance, and monitoring and evaluation.
They don't have much capacity to explore and understand how new technologies (e.g. mobiles, collaboration tools and media capture) or advances in current technologies (e.g. open standards, APIs, social media) can help their programmes.
Local partners are already ahead of the game when it comes to the use of mobiles. This is typically out of necessity - even basic SMS is an astoundingly versatile medium.
The "technology champions" in an organisation, the individuals who appreciate the possibilities, are not always the decision makers. They often don't have the time to investigate these opportunities and present information around which decisions can be taken.
Experimenting with the various tools out there can be challenging for the non-geek and it's hard to find out about the realities of implementation.
Consultants are expensive and companies who sell "off the shelf products" might not have the best interest of the organisation at heart.
There are some great resources out there that catalogue technologies, there are also some good case studies that cover certain scenarios but there are few resources that specifically help people make decisions at the organisational level.
So here's a promise: we'll help you make decisions about technology. We'll do a whole lot more, but at its simplest,
we'll do what it takes for you to decide what do to.
The first three things on my list of "how to support decisions" after my conversations yesterday are:
Write a blog post on technology decision making for medium-sized organisations, reassuring them that they're in good company. (done)
Write a primer on "why use mobiles for data gathering and communication" with a goal to support decisions.
Put together a "mobile gadget lab in a briefcase" to take to organisations so they can play with pre-configured versions of various tools on various devices supporting a couple of different workflows.
Do any of these thoughts resonate with you?
Comments most welcome!
Tariq
Jan. 21, 2010, 1:59 p.m. - Tweets that mention Technology decisions in org...

[...] This post was mentioned on Twitter by Tariq Khokhar, Aptivate. Aptivate said: New Blog Post: "Technology decisions in organisations great and small" - http://bit.ly/8RNWKz [...]