Translations, PDAs and Field Research
Translation can be a real headache.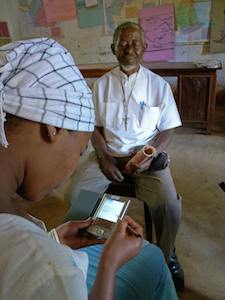 Identifying text for translation, finding individual strings and phrases to avoid duplications, contextual exceptions, keeping track of them, revisions, collaborating remotely, reviewing, back-translating,  integrating translations back into a finished product - you name it, the translation workflow has got it.
But first, a bit of background:
Aptivate started working with Camfed about 2 years ago when they were planning a major baseline study of their work supporting women's education and empowerment in Africa. As part of their broader monitoring and evaluation work they wanted to understand the impact of their programme on areas such as attitudes towards girls education, awareness of HIV and sexual health issues and the effectiveness of community structures.
We trained young women from rural areas in Tanzania, Zambia and Zimbabwe to use PDAs for face-to-face interviews with teachers, students, parents and officials in the education system.
We used Palm Tungsten E2 PDAs and Solar Bags from Voltaic to run the exercise. We customised and bug-fixed a version of the excellent Episurveyor for use in the education context (it was designed as a health tool).
The surveys that Camfed created for the study (50-60 questions for 6 different stakeholders, many common questions) were designed in English and had to be available in the following languages:
Swahili
Shona
Ndebele
Bemba
Lozi
The questionnaires were created in a spreadsheet - one sheet per stakeholder (e.g. parent, teacher) with a list of questions and optional responses on each sheet. We put together a tool in Excel to help with the translation process. Essentially it:
Went around sheets indexing each cell with relevant text
Built a single list of strings in a new sheet
Presented only unique strings to a translator and locked the rest down
Rebuilt the original surveys in the new language once the translation was completed
Can repeat all the above to allow for back-translations too
This is a good example of the agile approach - do the simplest thing you can to get the job done well (and on a deadline!). The translations got done, we scripted the automatic translation of the EpiSurveyor survey files (which are XML objects) and that was, as they say, that.
Until I had a chat with Camfed yesterday and they asked - "you know that translation tool you made, can we use it for some other things we're doing?"
Fantastic!
It's great to have built a tool that starts to get useful beyond its original remit. The Excel tool we made isn't suitable for general use yet and after using it for 2 years, there is plenty of scope for improvement around issues of collaboration and revision management.
Enter the internet.
I posted a question to MetaFilter yesterday on this subject and I got some really interesting responses I thought I'd share in case anybody is thinking of doing this kind of thing.
In particular, check out:
Happy translating!
Dec. 2, 2009, 11:34 a.m. - Tweets that mention Translations, PDAs and Fiel...

[...] This post was mentioned on Twitter by Tariq Khokhar and Aptivate, Evie Browne. Evie Browne said: RT @aptivateuk: New Blog Post: "Translations, PDAs and Field Research" - http://bit.ly/5WWfsc [...]

Dec. 2, 2009, 10:33 p.m. - Matt Garcia

Another resource to check out related to the Open Translation Tools FLOSS Manual is the Social Source Commons Open Translation Tools Toolbox created in conjunction with the event that led to the manual. There's some great resources in there. Check it out: http://socialsourcecommons.org/toolbox/show/1107

Dec. 2, 2009, 10:39 p.m. - tariq

Great pointer, thank you! I came across Anaphraseus independently but hadn't realised there was such a little world out there...

Feb. 16, 2010, 8:04 a.m. - itsBino

Also check http://entrans.sourceforge.net/demo/main.php I found it simple and straight to my requirements.